The Metamorphosis of Threads: A Synced Symphony of Twitter, Instagram, and Mirrored Minds
Threads is emerging as a powerful tool for user engagement, particularly within Twitter and Instagram. In less than 24 hours of its launch, Zuckerberg announced that Threads had hit the 30 million users mark. 
The current number of users of threads on Instagram now stands at 55 million, based on the number of badges appearing on Instagram profiles after someone joins threads Facebook. But what is the Threads app, and why are people talking about it?
What is Threads on Instagram?
Threads, as a feature on Instagram, revolutionises how users share and connect with their close friends. It serves as a dedicated space for intimate conversations and real-time updates. Threads provide a curated, interactive, and immersive experience, allowing users to stay connected and engage with their inner circles more meaningfully.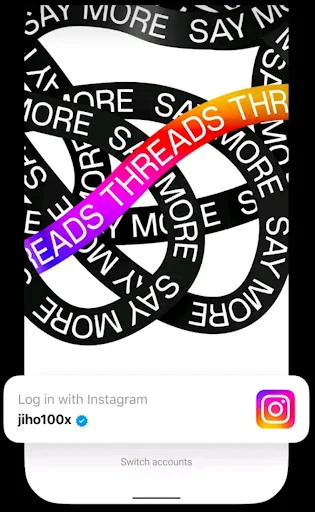 How do you access Threads on Instagram?
Accessing Threads within the Instagram platform is a straightforward process. Users can access it through a separate thread app or directly within the threads instagram login interface. Once inside Threads, the interface is designed to be intuitive, enabling seamless navigation and quick access to the desired conversations and updates.
iOS users of the Instagram app can easily access

threads login

by searching for the app name along with the code "P92" in the search bar.

Upon finding the app, users are redirected to the App Store, where they can conveniently download Threads.

For Android users,

threads meta

is readily available in the Google Play Store, ensuring wide accessibility across different platforms.

To provide users with a centralised hub for downloading the app and exploring public profiles, Threads utilises

threads.net

as its designated home.
Here is a faster way to install Threads via Instagram:
Go to your Instagram account on your phone. 

Tap your profile pic at the lower right hand side of the screen.

Tap the hamburger menu icon on the upper right hand corner to bring up the settings.

Now tap on the "Threads" option just under the "Settings and Privacy".

You will see a 3D image of a Threads "Ticket".

Tap on "Get Threads" and select the app market from which to download the app.

After installing, open the app and choose the Instagram account for logging into Threads.

Now select your Threads username, privacy setting and people you want to follow. 
Do you need Instagram for threads?
One question often arises is whether Instagram is a prerequisite for using Threads. The answer is yes; Threads relies on Instagram accounts for authentication and synchronisation. By leveraging the existing Instagram infrastructure, threads desktop app integrates seamlessly with users' Instagram profiles, ensuring a unified experience across both platforms. 
Is it different from or similar to Twitter?
Since it's a spinoff from Instagram (and designed to take on Twitter), the big question is 'what's the difference?" Specifically, Threads represent a paradigm shift in social communication. It breaks away from the usual focus on visual content. 
You log in through your Instagram account to begin sharing text updates, and diving into lively discussions becomes the name of the game. In short, Threads looks a lot like the comment section on Instagram, where you can reply to posts and re-share them.  
With Threads, you may make posts with up to 500 characters, links, 10 photos, and videos up to 5 minutes long. Unlike Twitter, you can't go back and edit your Threads once they're posted.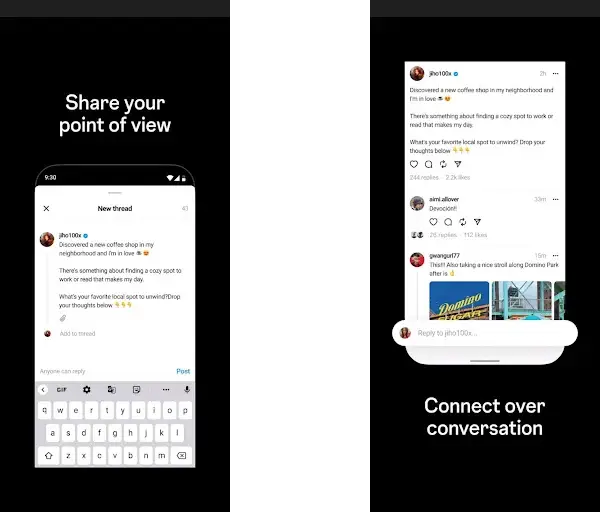 Threads keep things minimalistic, focusing on the essentials. No search function lets you dive deep into tweets and trending topics. There are no hashtags or trending sections. Unlike Instagram, you can't send posts directly to other users through Threads.  
And when you import your Instagram followers, you'll be thrilled to find familiar faces populating your feed. Engage with their posts, spark conversations, or create your masterpiece—simply tap on the friendly pencil icon in the bottom navigation bar. It only allows you to search for people to follow.  
Is thread app safe or not?
Threads prioritises user privacy and implements robust security measures to protect sensitive information. User data and conversations within Threads are encrypted, providing an additional layer of security. Additionally, Threads empower users to control their privacy settings and choose with whom they share their updates, ensuring a safe and trusted environment. 
While no app is entirely risk-free, Threads addresses potential concerns by regularly updating its security protocols and staying vigilant against emerging threats. Threads aims to maintain a secure platform for its users by proactively monitoring and addressing vulnerabilities.
Does thread app cost money?
One of the appealing aspects of Threads is that it is a free app available for download. Users can enjoy the core features without any monetary investment. However, it is worth noting that certain advanced functionalities or additional features may require in-app purchases or subscriptions. These optional paid elements provide users with enhanced capabilities and customisation options. 
Which app is threads?
To avoid confusion, it's important to clarify the specific app referred to as "Threads" within this article. Threads, in this context, pertains to the standalone app developed by Instagram to facilitate focused communication and engagement with close friends. It is crucial to differentiate it from any other similarly named apps or features on different platforms. 
Creating a profile on threads instagram seamlessly connects with the Instagram account you logged in with, forging a harmonious union. 
Rest assured, utilising your Instagram account's data aligns with Meta's comprehensive Privacy Policy. This allows us to import your profile information, curate a personalised feed, and ensure your safety across both apps. The data exchange between Threads and Instagram serves a dual purpose: enhancing your individualised experience and safeguarding the integrity of our services.
The data harnessed from your Instagram account on Threads encompasses various aspects, including but not limited to:
Your login information

Your account ID

Real name, age and Username 

Profile pictures, links and bio information 

Your follower count and details 

Other instagram accounts that you follow 

Account status related to any intellectual property 

Any violation you may have done (based on the Instagram's Community Guidelines)
What is the benefit of the Thread app?
Threads offer several advantages and unique features that enhance user experience. Creating a dedicated space for close friends fosters more intimate and authentic connections. The status feature enables users to share real-time updates and activities, fostering a sense of shared experiences. Additionally, Threads offers seamless communication tools like camera shortcuts and direct messaging, making it easier than ever to connect with loved ones.
Threads represent a transformative evolution in the digital landscape, seamlessly bridging the worlds of Twitter, Instagram, and the interconnected minds of its users. By introducing dedicated spaces for intimate conversations, empowering users to share real-time updates, and fostering a sense of community, Threads has redefined user engagement. As social media continues to evolve, Threads stands as a testament to the power of synchronised experiences and the ever-growing potential of digital connectivity.