8 steps for putting social media strategy into action
Almost every brand and business uses social media marketing these days. Social networks are a great place to engage, influence, and convert millions of people across different demographics. Just look at these demographics from the Digital 2022: Global Overview Report:
Almost 60% of the world's population uses social media, with 4.6 billion active users.

2.27 hours are spent on social media every day on average.

Instagram, Youtube, and

TikTok users increased in 2022

.

The average person uses 7.5 platforms each month.
For example, Apple's enduring #ShotOniPhone campaign spanned social media channels, and Getty Museum's #GettyMuseum challenge inspired a lot of users during the Coronavirus outbreak. The real question is – 'how do you make that kind of success work for your brand?'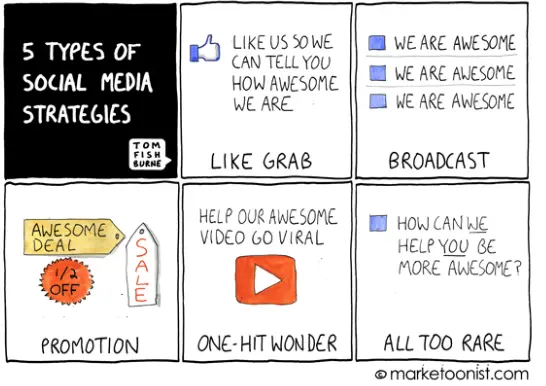 (Source: https://marketoonist.com/2012/08/types-of-social-media-strategies.html)
Social media strategies are crucial for success but aren't always easy to develop. Let's look at eight practical steps for putting your Social Media Marketing Strategy into practice. 
#1 Decide what you want to accomplish.
Defining your goals and objectives is essential before you begin implementing your Social Media Strategy. In what ways does your social media presence help you achieve your goals? What do you want to accomplish? Raise brand awareness, generate leads, or drive sales? Once you know your goals, your Social media strategy and planning align with your business objectives will be easier to develop.
#2 Be aware of your audience.
Understanding your audience is the next step. What type of customer are you looking for? Which social media channels are they using, and what kind of content are they engaging with? Creating content tailored to your audience's interests and preferences will increase engagement and build a loyal audience.
#3 Choosing the Right Platform.
Choosing the right social media platforms for your business is important when so many are available. Depending on the platform, different audiences require different approaches. B2B companies would benefit from LinkedIn, whereas visual content would benefit from Instagram. Choosing the appropriate platforms is possible to reach your target audience effectively.
#4 Plan your content strategy.
Your social media strategy relies heavily on content. Your audience will not stick around if your content isn't engaging. The Benefits of social media marketing are that it will help you determine what types of content to create, how often to post, and your tone. Also, take into consideration your content's format, such as videos, images, or text.
#5 Make sure your posts are scheduled.
The key to social media success is consistency. It is important to post regularly to ensure that your content is reached as many people as possible. Staying organized and saving time can be achieved by scheduling your posts in advance. You can plan and publish your social media content in advance using scheduling tools like Hootsuite and Buffer.
#6 Get Your Audience Engaged.
A social media conversation involves both parties. Responding ASAP to comments, messages and liking and sharing their posts are essential to engaging with your audience. The more you engage with your audience, the more likely you are to build relationships and keep your customers loyal.
#7 Performance Monitoring.
You need to monitor your social media performance to ensure your strategy is effective. Track your website traffic, engagement rates, and follower count is crucial. In this way, you can identify what's working and what's not so that you can adjust your strategy accordingly.
#8 Make adjustments to your strategy based on your results.
Finally, analyze your results and make adjustments as necessary. By refining your approach and improving your performance, you'll be able to make adjustments to your strategy. As social media continues evolving, you must keep up with the latest trends and adjust your strategy accordingly.
Tips for developing a long-term social media marketing strategy


(Source: https://marketoonist.com/2016/01/social_media.html)
While aiming for rapid growth in our eCommerce ventures is tempting, it is crucial to devote adequate time and attention to long-term strategies. While short-term tactics can temporarily boost revenue through paid advertising, they may not yield sustainable results. 
To ensure enduring success, it is essential to implement long-term marketing strategies such as SEO, social media, and content creation. Although these approaches may take up to a year to produce tangible outcomes, they are often more economical and can be achieved through consistent efforts. Effective long-term social media marketing demands a well-planned strategy that involves the following steps:
Identifying short-term and long-term goals and objectives.

Keeping track of marketing campaigns and adjusting them as necessary.

Tracking ROI and measuring success using analytics tools.

Regularly engaging customers and audiences.

Drive traffic with impactful content strategies.

Communication with your target audience should be open and honest.

Keeping up to date with new technology and trends.
Spreading awareness about your business and reaching your target demographic requires a social media marketing strategy. Marketing a product with social media is different from marketing with social media. Your social network experience needs to be positive and consistent when you use it for business marketing. An effective social media marketing strategy includes the following steps: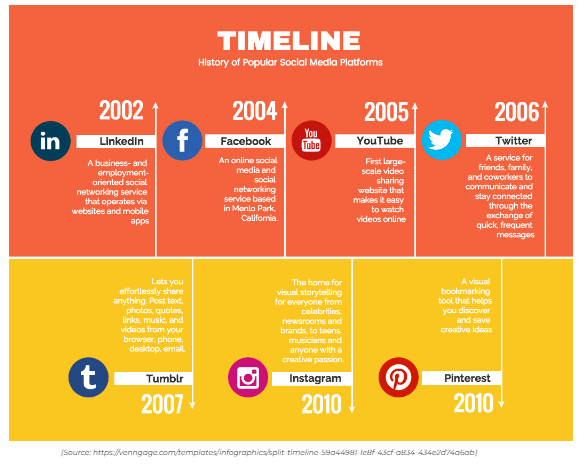 (Source: https://venngage.com/templates/infographics/split-timeline-59a44981-1e8f-43cf-a834-434e2d74a6ab)
Audit your social media accounts.
Identify what's working and what's not with your current social media presence. Using this analysis, you can identify areas for improvement and growth opportunities.
Set a budget.
Decide how much you will spend on social media marketing. Measuring ROI and prioritizing your tactics will be easier if you do this.
Specifications and Guidelines for Posting.
Content specifications, such as image sizes and text lengths, vary by social network. For each network you participate in, determine the guidelines and specs.
Target audience nuances.
Social networks attract audiences with different preferences and habits. Ensure your content and messaging are tailored to each network's target audience.
Repurposing content.
Shorter pieces of content that work well on social media can be created from your long-form content from your blog, podcast, e-book, etc.
Observe and adjust.
Keeping track of your progress toward your goals requires regular monitoring of your social media analytics. Adapt your strategy and tactics based on the data.
Social media strategies can significantly impact your brand's online presence, engagement, and growth. Our eight essential steps will help you create a robust social media strategy that aligns with your business goals. Adapt to changes in the social media landscape by keeping your approach flexible, evaluating your performance constantly, and evaluating your performance. Your social media strategy can produce impressive results if you are consistent in your efforts and have a clear vision.
Ready to take your social media game to the next level without breaking a sweat? Let iOceane be your wingman! We know How to develop a social media strategy. Our branding and digital marketing expertise can help you put these eight steps into action and skyrocket your social media presence. Don't go it alone – join forces with iOceane and let's conquer the digital world together!